Sleepwise Sleep Clinics and Therapy
Sleepwise provides professional sleep therapy services and advice, including clinics, one-to-one appointments, self-help products, CDs, articles and free products. Keywords: sleep clinic, sleep apnea, pure sleep, sleep experts, sleep depot, sit and sleep, sleep matters, sleep therapist, sleep management, sleep products, sleep help, sleep consultancy, sleep workshop, coaching, training, CPD.

Sleep & Stress
Consultants
since
1999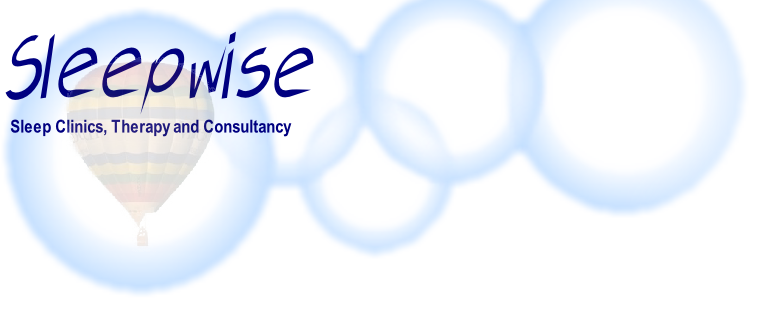 SLEEP CLINICS
If you need personal one-to-one help then you may wish to arrange an appointment with a Sleepwise Sleep Therapist or one of our associate therapists, click here.
We run formal and drop-in Sleep Clinics by arrangement in locations and venues agreed with our clients. If you would like us to run a Sleep Clinic for you or your group, club or organisation please contact us by email at clinics@ sleepwise.co.uk.
Sleep clinics can be provided at home addresses. So if you want to arrange a private Sleep Clinic with a few friends in your own home then we would be happy to arrange this. For more details please telephone 01452 521008 or email homeclinic@ sleepwise.co.uk.
We have no scheduled sleep clinics at present.
If you are looking for one-to-one therapy with a sleep therapist help please telephone 01452 521008 or email therapy@ sleepwise.co.uk
CORPORATE SLEEP CLINICS AND CONSULTANCY
Employees with sleep problems could be costing your business money. The physical and mental problems associated with someone who sufferers from serious sleep deprivation can be equal to someone being twice the legal alcohol limit. So the risk of errors, accidents and confrontational incidents increases dramatically.
You must remember is often not their fault as sleep problems can result from many different causes, including work related stress and pressure! Workplace sleep clinics can reap considerable benefits for the employer, both financial in better productivity and in helping compliance with legal stress risk minimisation requirements.
If you would like details and a quotation phone 01452 521008 or email corporate@ sleepwise.co.uk.
Click here for more information on Sleepwise Sleep Management and Corporate Consultancy Services