Corporate stress management, employee risk management, employee consultations and surveys, stress audits. Training, coaching and mentoring, training assessment, coping skills, anxiety management, competency.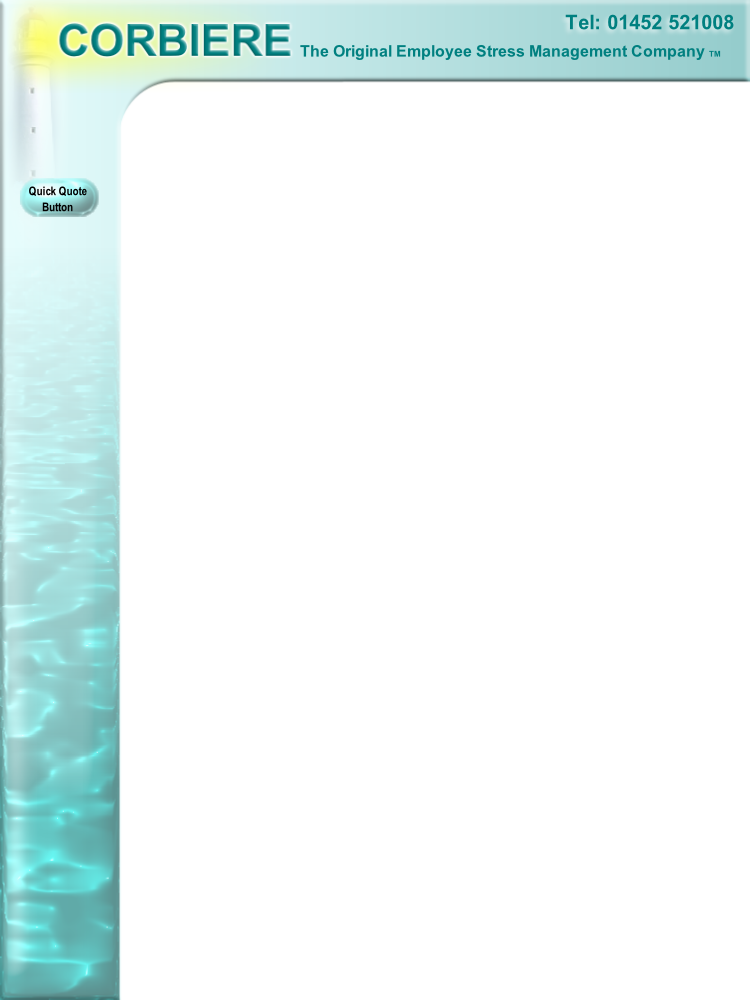 Offsite Links for Personal Stress Issues
Personal:


Surviving The Compensation Culture - 2.5 Hour Workshop
Be Prepared!
Discover what management weaknesses could be used against you.
A unique opportunity for your managers to gain valuable knowledge from a specialist consultant adviser, on how inappropriate management actions and attitudes could put your organisation at risk of serious financial loss.
This is a 2.5 hour workshop presented by a Corbiere Associate Consultant with over 16 years experience of employee risk management, who now regularly advises claimants and their legal representatives on how to maximise their claims, especially for stress, bullying (including diversity) and harassment.
The workshop includes:
How the case against the employer is created.

What records and evidence are used to undermine the employer's defence.

Important case law.

Why the number of claims have dramatically increased in recent years.

The real cost to the employer of both successful and unsuccessful claims.

Perceptions, deceptions and reality.

Question time.
COST
The cost of this unique 2.5 hour workshop is just £1257.00 - total cost for unlimited number of attendees. Plus expenses - e.g. venue, travel and subsistence, etc as appropriate.
To Book Telephone 01452 521008
or email associates@corbiereconsultants.co.uk for a fixed price quote.
Please note that the agreed price will be invoiced and must be paid direct to the presenter prior to workshop date.
PS "Remember, over 80% of employee claims are settled outside of the court or tribunal, usually for a five figure sum."
PPS "The actual cost, including legal fees, lost working time, etc, to an employer could be double or triple that actually paid to the employee."
PPPS "Many employers are leaving themselves vulnerable to claims because they or their managers; ignore their legal duties, fail to keep proper records or permit an inappropriate workplace culture."
PPPPS "Most stress related claims are avoidable!"